Dec 4, 2019 • 45M
#18 - GTL Rundown Episode
The Reformed Millennials Podcast covers a wide ranging topic arc focusing on Sports and Investing. RM Pod is dedicated to identifying the latest trends in technology, sport and investing. We discuss the ways Millennials can leverage these trends to better invest their time, fandom and money.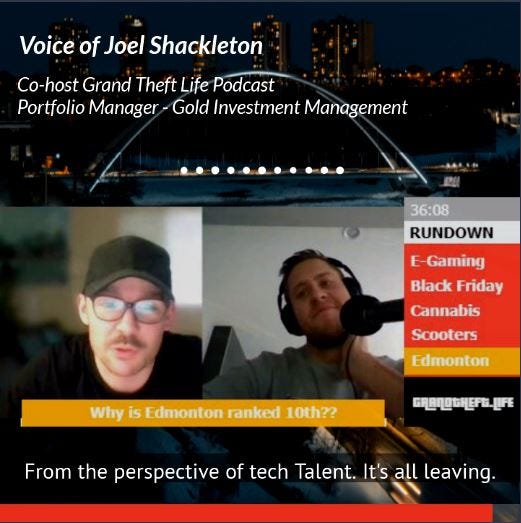 In today's episode, we try something different. Broc and Joel pick 5 subjects that are hot in the tech and investing sphere and discuss the challenges and opportunities that they all present.
E-Gaming/Sports
Cannabis
Scooters - Lime, Bird and their impacts on cities
Is Edmonton an emerging tech hub?
Join us to hear out opinions and email us at hello@grandtheft.life if you have any further thoughts!
---
[2:00] - E-Gaming and how many people will spend time in a "metaverse" - http://investorfieldguide.com/baker/
[9:30] - Shopify merchants sell $2.5B in Black Friday -> Cyber Monday - https://datastories.shopify.com
[19:30] - Aurora Cannabis opens 11k sq/ft flagship store in WEM
[26:00] - Will Scooters take over Canadian streets next summer?
[33:00] - We discuss Edmonton's position on CBRE's 2019 Canadian Tech Talent Report - https://www.cbre.ca/en/research-and-reports/Canada-Scoring-Tech-Talent-2019





DISCLAIMER
Joel Shackleton works for Gold Investment Management. All opinions expressed by Joel and Broc or any podcast guests are solely their own opinions and do not reflect the opinion of Gold Investment Management. This Podcast and Substack is for informational purposes only and should not be relied upon for investment decisions. Clients of Gold Investment Management may hold positions discussed in this podcast.