Jun 15, 2020 • 33M
#45 - Retail investors flock to Hertz, Pier 1 and J.C. Penney after bankruptcies, our health data could be going public, and are livestream shopping channels the new QVC?
The Reformed Millennials Podcast covers a wide ranging topic arc focusing on Sports and Investing. RM Pod is dedicated to identifying the latest trends in technology, sport and investing. We discuss the ways Millennials can leverage these trends to better invest their time, fandom and money.

In this week's episode, we chime in on why retail investors jumping onto the sinking ships of bankrupt companies might be in trouble (1:20).

We also discuss how Apple is building a new operating system from health data and where there might be opportunities for outside businesses to take advantage of the trend (8:15).
Lastly, we chat about the relatively new livestream shopping phenomena in China that is drawing bigger audiences than the Oscars or Sunday Night Football (19:35).
Listen on Apple, Spotify, or Google Podcasts.
If you aren't in the Reformed Millennials Facebook Group join us for daily updates, discussions, and deep dives into the investable trends Millennials should be paying attention to.
➡️ For specific investment questions or advice visit Gold Investment Management.
---
If you're interested, here's more context on the topics mentioned.


📈 Retail investors pour into bankrupt companies.
The Financial Post put out an article last Tuesday titled, "Hundreds of thousands of tiny buyers are swarming to insolvency stocks in get-rich-quick play".

It's a great summary of a bizarre turn of events where Hertz, a company already in bankruptcy protection, asked a judge to let them sell $1b worth of shares to the public as their stock spiked from $.80 to $5.50 last Monday.
Meanwhile, the "smart money" is warning a softening bond market could mean treacherous waters for those long dying companies.

Listen to an explanation of the situation at (1:20).




❤️ Apple is building an operating system for health.
Coronavirus and contact tracing has made us all too aware of the importance of public health data and how close we are to it all being readily available online.

It's interesting to think about all the possibilities this brings with it from better health care and earlier diagnosis to reduced insurance premiums and more efficient health care systems.

This essay is a peek into Apple's strategy of making public health data it's own operating system.




🛒 The livestream shopping phenomena in China.

If you have any interest in the world of influencers you'll love this article from Bloomberg on Huang Wei (Viya), the world's "livestream queen".
She works on behalf of the Qianxun Group, a company pushing products through 40 different livestreamers, from a 10,000 sq ft warehouse in Hangzhou.

Before you chalk this up to your typical Instagram influencer selling weight loss tea, consider on singles day alone her channel did more than $423M USD in sales.

Qiaxun plans to have over 100 influencers by 2023 and be public before 2025.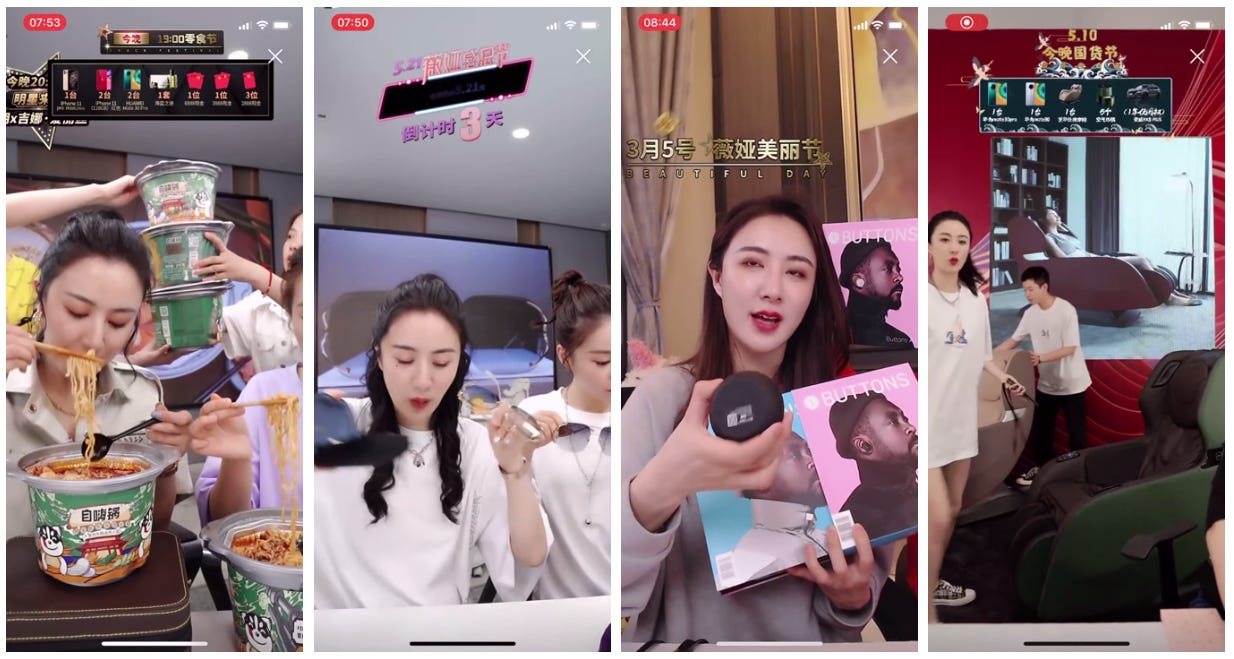 📖 Must Read Article
If you aren't already following Morgan Housel, he's a partner at The Collaborative Fund and arguably one of the best writers in finance. We've repeatedly mentioned his articles from their blog including; How This All Happened (short story of what happened to the U.S. economy since World War 2), The Psychology of Money and You Have to Live it to Believe it.

One of his most recent articles from earlier this month titled, Permanent Assumptions, would also make our shortlist.



Have a good week!