Jun 22, 2020 • 27M
#46 - Controversial Predictions by NYU's ProfGalloway, DDTG Blindly Leads Robinhood Day Traders, App-Store Accused of 'Gangster' Retaliation.
The Reformed Millennials Podcast covers a wide ranging topic arc focusing on Sports and Investing. RM Pod is dedicated to identifying the latest trends in technology, sport and investing. We discuss the ways Millennials can leverage these trends to better invest their time, fandom and money.
In this week's episode, we chat about a recent article from our favourite NYUstern Professor, Scott Galloway, and his take on the only way Apple can continue to grow. We also had to try and come up with an explanation for why Jason Calcanis and other billionaire SV investors are trying to bring cancel culture to finance Twitter. (1:25)

We discuss the leader of Robinhood day traders, "Davey Day Trader Global", the mainstream media's infatuation with his scrabble stock-picking strategy, and how this looks a lot like 1999. (11:25)
Lastly, we chat about a controversial Twitter topic from the previous week, Apple's biggest moat, the App Store, and the anti-competitive nature of its iOS ecosystem. (15:32)
Listen on Apple, Spotify, or Google Podcasts.
If you aren't in the Reformed Millennials Facebook Group join us for daily updates, discussions, and deep dives into the investable trends Millennials should be paying attention to.
➡️ For specific investment questions or advice contact Gold Investment Management.
---
If you're interested, here's more context on the topics mentioned.


🎓 NYUStern professor, Scott Galloway, defends position amidst billionaire criticism.

Recently, ProfG took to his popular blog, No Mercy No Malice, to talk about where the biggest tech companies in the world would find revenue growth in upcoming years.

He made some logical arguments around it being harder to double a company like Apple that's already worth $1.5T as opposed to a business like $ZOOM.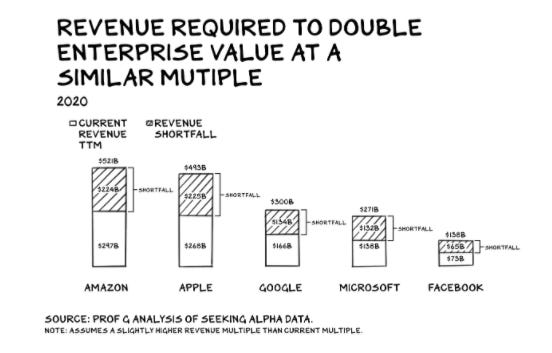 He received a lot of criticism, especially for stating Lemonade (Home and Renters Insurance) as an alternative option that might have a better chance of doubling. For someone who regularly puts out unique content and original opinions, online criticism is normal but the last few weeks have been different.
Billionaire angel investors taking swings at MBA professors seems off.
Maybe Calcanis is strategically promoting his new podcast venture, or maybe he just he's just going quarantine stir crazy… either way, it sparked the cancel culture conversation that it seems only Joe Rogan is safe from at this point (7:15).



🎲 Has the lunacy of Robinhood-daytrade leader, DDTG, signaled another market top?
We've covered Barstool Sports founder, Dave Portnoy, numerous times the last three months. If you don't know, he's done everything from unboxing to frozen pizza reviews, and now stock picking to keep his media company's views and revenues up.

Given the Barstool platform, it's no wonder each new idea brings with it a wave of attention but this time seems different…
Now we aren't just counting the number of live stream viewers or t-shirts sold, it's earned media dollars from the biggest networks and most respected financial news outlets in the world.



🍎 What Basecamp's new email app taught us about the anti-competitive nature of Apple's App Store.
Basecamp, a very popular project management tool for small businesses, recently launched a new premium email product called Hey.
A new email app isn't groundbreaking news on its own… so why has the story has gone viral?

1. The app was originally approved by Apple, BUT subsequent versions were rejected citing a failure to comply with in-app purchase policies. (they want their 30%)
2. Their requirement to adhere to these policies doesn't seem consistent for all companies. Many businesses like Netflix don't offer the ability for customers to buy subscriptions through an iPhone app.
3. Their app was rejected the same day that the EU launched an antitrust investigation into the App Store.


The worst part is it sounds like Basecamp is one of the only companies willing to say anything. Many other businesses who are at the mercy of Apple's decision are having their fate decided by a bureaucrat somewhere within the trillion-dollar company.


We talk about how Apple has become "king-makers" and a prediction for what happens to their valuation if they were to get broken up at (18:50).

June 22 update: The Hey app got approved AND Apple announced two changes to policies on how it will deal with similar situations in the future. Most notably, they will no longer delay app updates intended to fix bugs over App Store disputes (eg. not complying with in-app pricing).

Do you think Apple should still get broken up? Leave your thoughts on this post in our Facebook Group.

p.s. If you got forwarded this newsletter, click the button below to subscribe!


p.p.s. are you good at riddles? Here's an easy one… since COVID hit this Canadian company has chugged along steady. They help connect the country like the Italians and spaghetti. With all kinds of customers from farmers, and miners, to those who cut trees. They don't sell bourbon or donuts but can get you to New Orleans.
Look out for our newsletter next Monday morning for the answer.

Enjoy the rest of your week!