Jul 1, 2020 • 31M
#47 - How inflation could benefit millennials, the Facebook ad boycott, and where Wayfair is beating Amazon.
The Reformed Millennials Podcast covers a wide ranging topic arc focusing on Sports and Investing. RM Pod is dedicated to identifying the latest trends in technology, sport and investing. We discuss the ways Millennials can leverage these trends to better invest their time, fandom and money.
In this week's episode, we talk about the growing Facebook ad boycott and how countries like India banning TikTok could benefit them. (1:10)
We cover a surprising idea that explains how looming inflation of consumer good prices could actually benefit millennials. (6:40)
Lastly, we talk about the trend of buying household goods online, how it's been a driver of growth for Wayfair and another trend that could see similar growth. (16:45)
Listen on Apple, Spotify, or Google Podcasts.
If you aren't in the Reformed Millennials Facebook Group join us for daily updates, discussions, and deep dives into the investable trends Millennials should be paying attention to.
➡️ For specific investment questions or advice contact Gold Investment Management.
---


🙅‍♀️ Why advertisers are boycotting Facebook...
June 17th a group of civil rights organizations including the Anti-Defamation League, the NAACP, and Color of Change called on businesses to "hit pause on hate" and not advertise on Facebook in July.
Calls for change began after Facebook refused to fact check a series of Trump's tweets with Facebook CEO Mark Zuckerberg making clear his stance that social media companies should not be "arbiters of truth."

As of June 26th Facebook reversed its stance on policing ads and will ban ads that claim people from a specific race, ethnicity, nationality, caste, gender, sexual orientation or immigration origin are a threat to the physical safety or health of anyone else. 
Here is a list of the 350+ companies pausing their Facebook ad campaigns for July: https://www.stophateforprofit.org/participating-businesses
🐡 Could inflation actually benefit millennials? 

For context, Morgan Housel published "Keep Running" yesterday where he says,
"It's easy to think investing is like physics, with set laws that never change. But it's not…

It's like Van Valen's evolution, where "success" is just a brief respite before the next competitor shows up and old skill becomes meaningless."

This piece was undoubtedly influenced by a podcast published the day before between Barry Ritholtz and Jeremy Siegel.

Jeremy Siegel, a finance professor at Wharton, says "Bonds are going to do worse than inflation" in a recent interview with Barry Ritholtz.


An oversimplification of his idea is that "bonds for the long run" is incorrect - their two-decade run of outperforming is over based on the fact yields have nowhere to go but up (prices have an inverse relationship to interest rates).

If that's true, and we assume a historically typical 60/40 equities to bonds allocation for a retirement portfolio, then millennials who are overweight stocks will likely outperform over the next decade.

Keep in mind Seigel has a book literally called, "Stocks for the long run".
🛋️ The one category Wayfair is beating Amazon.

June 17th CNBC put out an article titled, "How Wayfair is becoming the Amazon of the home goods market".

Dan McCarthy, assistant professor of marketing at Emory University, is quoted saying, ″I think Wayfair may be benefiting more from Covid-19 than almost any single other company except for like an Instacart."

In a world where Amazon is moving away from the first-party sales/wholesale model, shifting to the more profitable and scalable 3rd-party business… Wayfair is embracing it.
They're making it as attractive as possible for partners as well charging $0 fees, covering their own shipping losses, and providing a marketplace of over 20m customers.
Home furnishings is an interesting space because there seems to be a low brand affinity and a huge amount of opportunity, especially if you can imagine even a fraction of the 85% of offline furniture sales moving online in the coming years.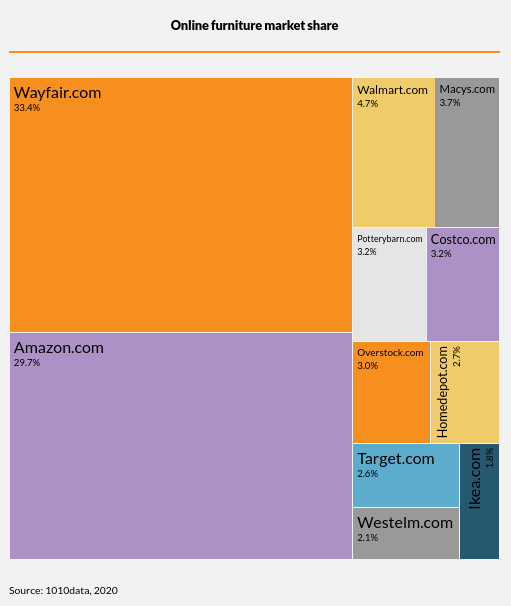 More statistics on how Wayfair is dominating the online furniture market.
p.s. If you were forwarded this newsletter, click the button below to subscribe!
p.p.s. This week's riddle: some people think I'm a scam but I promise to make your life 100x faster. I'm in my fifth iteration so I only work with a few products but will likely help fridges and cars and almost anything else thereafter. 
Look out for this newsletter next Monday morning for the answer.
Answer from last week: $CNR - CN Rail

Enjoy the rest of your week!