Jul 14, 2020 • 34M
#49 - How 48 547 $TSLA investors could be wrong, why Tiktok needs to be banned, is Spotify in trouble after SiriusXM's latest acquisition.
The Reformed Millennials Podcast covers a wide ranging topic arc focusing on Sports and Investing. RM Pod is dedicated to identifying the latest trends in technology, sport and investing. We discuss the ways Millennials can leverage these trends to better invest their time, fandom and money.
In this week's episode, we discuss the hype surrounding Tesla, how it's now the world's most valuable carmaker, and what part Robinhood investors play in it all. (1:00)
We talk about the allegations that TikTok data is being used to spy on users and whether it should be being banned in the US. (11:30)
Lastly, we discuss the current trend in podcasting to own premium content and whether SiriusXM just became Spotify's biggest competitor after buying Stitcher. (19:00)
Listen on Apple, Spotify, or Google Podcasts.
If you aren't in the Reformed Millennials Facebook Group join us for daily updates, discussions, and deep dives into the investable trends Millennials should be paying attention to.
👉 For specific investment questions or advice contact Gold Investment Management.
---
🚘 Could 48,547 Robinhood Investors be wrong about Tesla?
If you deleted your finance app for the last three months, you might have missed Tesla's share price almost triple YTD.
Needless to say, the stock is popular among Robinhood investors.

robintrack.net
Robintrack
Robintrack keeps track of how many Robinhood users hold a particular stock over time. It generates charts showing the relationship between price and popularity, and compiles some lists using the data.
Yes, they started delivering their Model-Y crossover sedan in March.
Yes, they will likely get listed on the S&P 500 even without meeting the necessary criteria.
But are they overvalued, well that's for you to decide. Listen to our opinion at (1:00).
An old one but still relevant:


🇺🇸 Why the United States is planning to ban TikTok.
With the beta release of iOS 14 came new notifications and therefore a new understanding of how apps are using your data.

TikTok wasn't the only app helping themselves to things copied to your clipboard but their ability to misuse collected data is arguably the most dangerous which is why people got suspicious.

This TIME article explains what India is accusing TikTok of and why they banned the app.
TikTok's defense is currently that they use Amazon Web Services as a host for the information so they couldn't do anything with it after which is not true.

🎙️Is Spotify in trouble based on the latest SiriusXM acquisition?
This tweet thread gives a lot of context to the deal which now gives SiriusXM the largest audience in the United States for digital audio (150m vs 124m paid global subscribers for Spotify).
While this is likely a rising tide lifts all boats scenario there is definitely a battle heating up between SiriusXM and Spotify.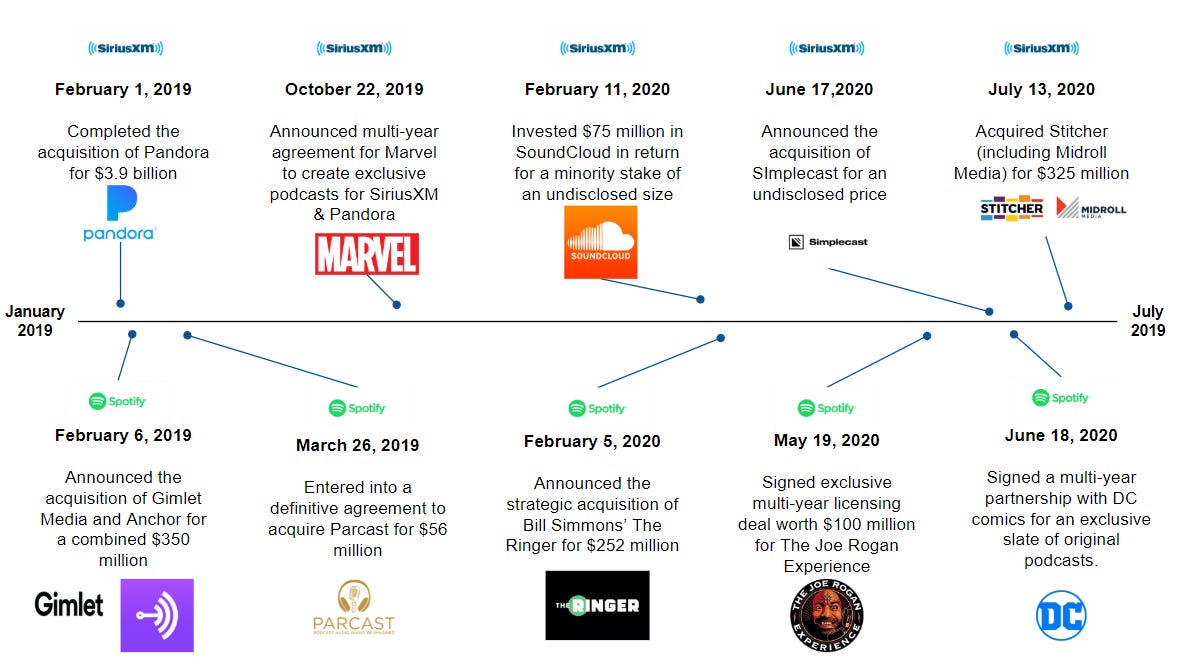 Spoiler: our consensus was SiriusXM will likely introduce an older demographic to podcasting. Similar to how Netflix introduced Baby Boomers to subscription TV… those subscribers still pay for Disney+ for when the grandkids come over. It's a new category and the pie is still expanding.
Alex Danco argues that the podcasting battle has a Red Queen effect similar to SVOD, where the winner will be the platform willing to acquire the most popular content no matter the cost (eg. Spotify's Joe Rogan deal).

It's an interesting phenomenon because we tend to choose which subscription video services to buy based on one or two titles (eg. for me Billions, Seinfeld, Ozark) and stay for everything else.

🔮 Predictions:
Tesla stock goes much lower from here.

TikTok gets banned in the US, Australia, and Canada.

As SiriusXM introduces podcasting to their huge cohort of older listeners it benefits all companies in the space including Spotify.
p.s. If you were forwarded this newsletter, click the button below to subscribe!
p.p.s. This week's riddle:

4 times I've worked with a rock, believe it or not, I get paid just to talk.
I'm not a rapper, I'm not in MIB, but it's true, I was raised in West Philly.
What now, you haven't seen it? I was nominated for a grammy.
I even invest in startups like PFL, and Hungry, just as Jay-Z.
Look out for this newsletter early next week for the answer.
Answer from last week: Netflix

Enjoy the rest of your week!