Aug 19, 2020 • 33M
#54 - Will Apple suffer for blocking Fortnite, Facebook gaming, Reels vs. Tiktok, and why a vaccine will be the only thing that matters to markets.
The Reformed Millennials Podcast covers a wide ranging topic arc focusing on Sports and Investing. RM Pod is dedicated to identifying the latest trends in technology, sport and investing. We discuss the ways Millennials can leverage these trends to better invest their time, fandom and money.
In this week's episode, we're chatting about why the feud between Epic Games (Fortnite) and Apple is important. We talk about how Facebook gaming ranks in the world of video game streaming, how Instagram's new Reels product is doing compared to Tiktok, and why a possible vaccine is the only thing that will matter to markets.

On Spotify click these timestamps in the show notes to skip ahead in the episode.
The Apple and Epic Games feud. (1:20)

The Facebook thesis from gaming to Reels. (11:00)

How markets will react to a vaccine. (17:50)

Listen on Apple, Spotify, or Google Podcasts.
If you aren't in the Reformed Millennials Facebook Group join us for daily updates, discussions, and deep dives into the investable trends Millennials should be paying attention to.
👉 For specific investment questions or advice contact Gold Investment Management.
---
🍎
Will Apple Suffer From Blocking Fortnite?

For context on where we're at, here's the timeline:
August 13th - Apple removes Fortnite mobile from the App Store for violation of payment terms.
August 13th - Epic Games issues this 65-page lawsuit against Apple.
August 17th - Apple announces its plans to cut off access to Epic's developer tools on Aug 28th for anyone developing on top of the unreal engine.

Listen to the possible outcomes for Apple in the segment of this podcast at (1:20).

🎮
 How Is Facebook Gaming Stacking Up To Competitors?
Late last month Microsoft decided to shut down their streaming service, Mixer, and instead partner with Facebook.
From the chart below this helped them pick up at least another ~3% of the market.
For more context on how this competition breaks down, it was recently reported that in Q2 Facebook gaming racked up 822m hours watched vs Youtube (1.5b) and Twitch (5b).

Listen to the segment at (11:00) to understand how this portion of their business affects the overall Facebook investment thesis.


📈
 Why will a vaccine be the only thing that matters to markets?

Listen to the segment at (17:50) or join the discussion on this post in our Facebook group.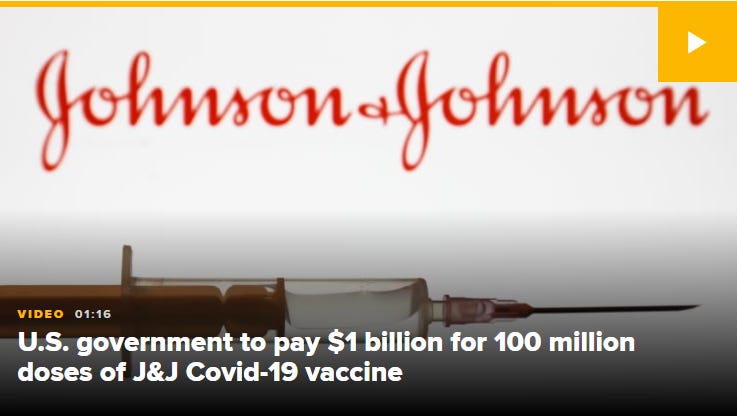 🔮 Predictions:
*Disclaimer: GIM staff, clients, immediate family, and relatives own REITs and other securities mentioned in this podcast directly and indirectly. This email and anything mentioned in the podcast is not investment advice, for informational purposes only. Full disclosure is at the end of the podcast audio.*
Apple deserves the 30% commission and won't lose this battle.

Gaming justifies the duration of the Facebook play. Net positive, won't touch Twitch until they can figure out a better way to pay creators.

The sentiment of a vaccine would be extremely positive for the stock market outside of tech (watch for oil & copper to bounce if this happens).


p.s. If you have been forwarded this newsletter, click the button below to subscribe!
p.p.s. This week's riddle:
I have Canadian roots and am most known for red suits.
My wife and I live in LA but cheer for Green Bay.
I hate flying but Aviation is my brand.
As of this week, George Clooney is my casamigo…
aka right-hand man.

Answer from last week: Palantir

Enjoy the rest of your week!
---
DISCLAIMER
Gold Investment Management Ltd. ("GIM") is registered as a portfolio manager in the provinces of Alberta, British Columbia, Saskatchewan, Manitoba, Ontario and Quebec and as an investment adviser with the U.S. Securities and Exchange Commission. This material is provided to you for informational purposes only. For greater certainty, the information contained herein should not be construed as a recommendation of any specific model portfolios or investment actions. Any third-party information contained herein has been compiled from sources believed to be reliable, however, GIM makes no representation or warranty, express or implied, as to its accuracy or completeness. Any market prices and estimates in this report are for informational purposes only. The opinions contained herein are effective as at the date of the report and GIM does not assume any responsibility for advising the reader of any subsequent change of opinion. Any indications of past performance contained herein is not indicative of future results and any information with regard to the performance of GIM's investment portfolios is presented gross of fees which will vary from mandate to mandate. For additional information please visit our website: https://gold-im.com/legal/.