Aug 25, 2020 • 37M
#55 - Could a Biden win be good for the stock market? Also, should tuitions be cut for remote classes or will students ditch designations for Lambda School and ISA's.
The Reformed Millennials Podcast covers a wide ranging topic arc focusing on Sports and Investing. RM Pod is dedicated to identifying the latest trends in technology, sport and investing. We discuss the ways Millennials can leverage these trends to better invest their time, fandom and money.
In this week's episode, we're chatting briefly about Politics - whether the Conservative leadership race in Alberta has any downstream impact and more importantly, some predictions on what a Biden administration might mean for the stock market. We're also going to discuss Lambda School, income sharing agreements as a viable form of educating high skilled workers, and lastly a reaction to Jerry Seinfeld's op-ed in the New York Times on why he will never ever abandon New York City.

On Spotify click these timestamps in the show notes to skip ahead in the episode.
Could a Biden win be good for the stock market? (6:25)

Lambda School and income sharing agreements. (12:45)

Thoughts on Jerry Seinfeld's NYT op-ed. (25:00)

Listen on Apple, Spotify, or Google Podcasts.
If you aren't in the Reformed Millennials Facebook Group join us for daily updates, discussions, and deep dives into the investable trends Millennials should be paying attention to.
👉 For specific investment questions or advice contact Joel @ Gold Investment Management.
---
🏛️
Could a Biden win be good for the stock market?
For more context on this statement listen to the clip starting at (6:25).


🚌
 What are ISA's and how is Lambda School making a dent in post-secondary education?
@LambdaSchool, put simply, is a Computer Science education with no tuition until you get a job.

Last week they announced $74M of new funding to push forward their incentive-aligned education mission. Previous investors include Ashton Kutcher, Stripe, Y-combinator, among many others.

Their income sharing agreement (ISA) with students is straight forward, except in California. (Austen is their Founder and CEO)

🚌
 Who is James Altucher and why is Jerry Seinfeld mad at him?
Jerry Seinfeld was born in Brooklyn in 1954 so it's no wonder that when James Altucher published an article on LinkedIn titled NYC IS DEAD FOREVER he took offense.

This may be old news to many but Seinfeld decided to write a scathing op-ed rebuttle in the New York Times, linked below.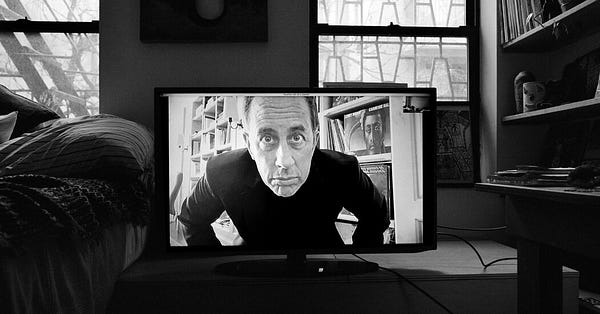 nytimes.com
Opinion | Jerry Seinfeld: So You Think New York Is 'Dead'
(It's not.)
In this episode, we mention another article written by James titled how to get a MBA from Eminem.

What do you think, is New York dead?




🔮 Predictions:
*Disclaimer: GIM staff, clients, immediate family, and relatives own REITs and other securities mentioned in this podcast directly and indirectly. This email and anything mentioned in the podcast is not investment advice, for informational purposes only. Full disclosure is at the end of the podcast audio.*
Biden wins (listen to the clip @ 6:25 for the impact on stocks).

Tuitions stay flat.

NYC (and other major cities) are reborn as more diverse and multicultural.

p.s. If you have been forwarded this newsletter, click the button below to subscribe!

p.p.s. This week's riddle:
These 5 guys don't come with fries.
They don't write hit singles,
or do stadium shows live.
But when it comes to views they've got it covered,
53 million subscribers for trick shots -
that's one big number.

Answer from last week: Ryan Reynolds

Enjoy the rest of your week!
---
DISCLAIMER
Gold Investment Management Ltd. ("GIM") is registered as a portfolio manager in the provinces of Alberta, British Columbia, Saskatchewan, Manitoba, Ontario and Quebec and as an investment adviser with the U.S. Securities and Exchange Commission. This material is provided to you for informational purposes only. For greater certainty, the information contained herein should not be construed as a recommendation of any specific model portfolios or investment actions. Any third-party information contained herein has been compiled from sources believed to be reliable, however, GIM makes no representation or warranty, express or implied, as to its accuracy or completeness. Any market prices and estimates in this report are for informational purposes only. The opinions contained herein are effective as at the date of the report and GIM does not assume any responsibility for advising the reader of any subsequent change of opinion. Any indications of past performance contained herein is not indicative of future results and any information with regard to the performance of GIM's investment portfolios is presented gross of fees which will vary from mandate to mandate. For additional information please visit our website: https://gold-im.com/legal/.