Oct 13, 2020 • 29M
#62 - Vaccines, Solar vs. Oil, Alexa Skills and the Dominating trend of Digital Fitness
The Reformed Millennials Podcast covers a wide ranging topic arc focusing on Sports and Investing. RM Pod is dedicated to identifying the latest trends in technology, sport and investing. We discuss the ways Millennials can leverage these trends to better invest their time, fandom and money.
In this week's episode, we're talking about the Vaccine timeline, Solar vs. Oil, Digital Fitness, and Alexa taking over the home. If you want some color on why you should stop doubling down on a sector that may never come back, or Broc and Joel's take on the next trillion-dollar platform tune in this week.
Listen on Apple, Spotify, or Google Podcasts.
If you aren't in the Reformed Millennials Facebook Group join us for daily updates, discussions, and deep dives into the investable trends Millennials should be paying attention to.
👉 For specific investment questions or advice contact Joel @ Gold Investment Management.
---
💊💉
The Vaccine Timeline
🧬🦠
Vaccines and Distribution: Best Case scenario (from Bill Gates)
If in the US, as Trump has alluded to, there's a vaccine for COVID19 by end of October. That would mean that manufacturing and distribution can get their supply chains in order to mass-produce the vaccine. And if that vaccine actually works and is effective and everything is hunky-dory, there will be at best - 20,000,000 doses available by January 1, 2021. This is VERY UNLIKELY.

I must be clear - there is ZERO supporting news or evidence that we will have a working vaccine by the end of this month. That is likely a lie. It's much more likely that the best-case scenario is a working scalable vaccine by 2021 January February.

"I do think once you get into, say, December or January, the chances are that at least two or three will [seek approval] — if the effectiveness is there," Gates told CNBC via video conference last week.

"In that case, during 2021, the pandemic is going down, and in 2022, the global pandemic comes to an end," he told Intelligencer.

Currently, there are more than 170 vaccines being developed worldwide, with at least 31 in clinical trials, according to the World Health Organization. Gates told reporters that Pfizer's vaccine is the only one that could theoretically get an emergency use license by the end of October.

JNJ currently running a 60,000 person trial for their vaccine.
At best this would mean that if everything fell in line there would be enough for the majority of the population by September-December 2021. And this is the best-case scenario outlined by the gates foundation.
---
🔌💡Solar vs. Oil🛢️🔋
Solar ETF vs XLE 📈📉
Pensions and Hedge Funds running into Solar to tell clients they're diversified in energy instead of owning oil... ESG might be helping but barely.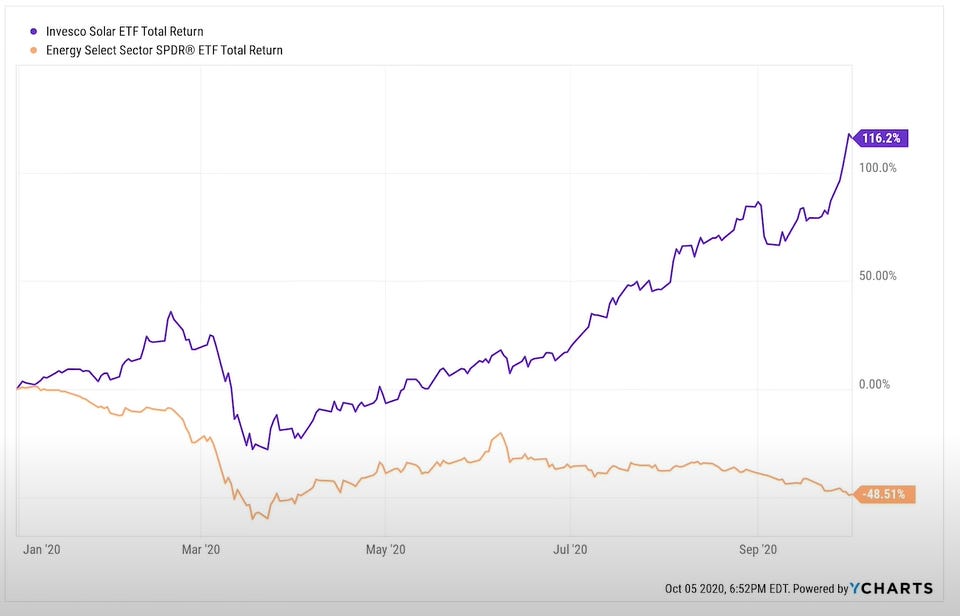 Berkshire Hathaway (mid-America energy) New construction in their energy arm is investing in Wind and Solar. Shown below in the massive market cap expansion in the thematic ETFs.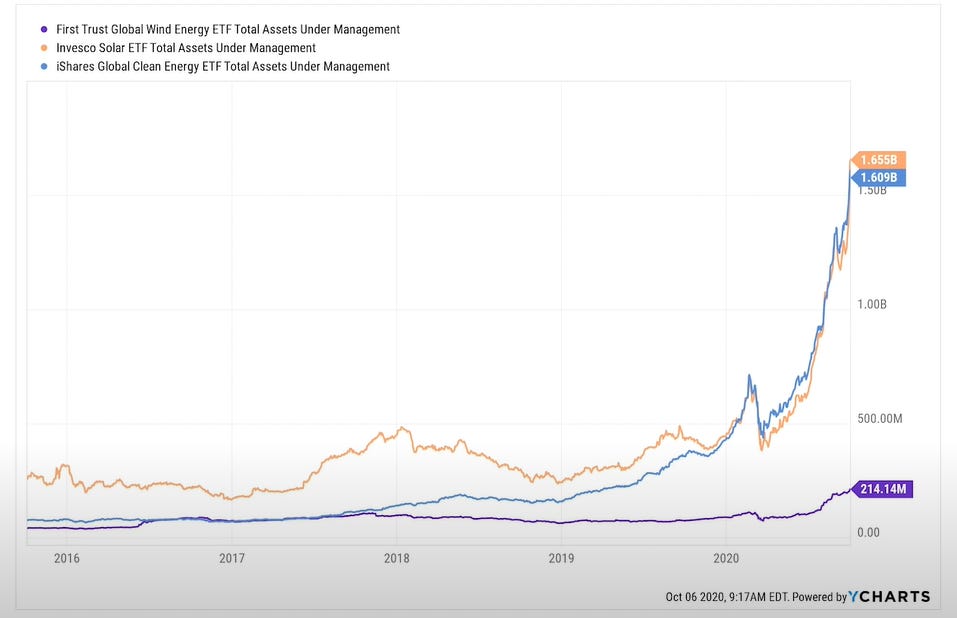 Solar paneling costs have been driven way down over the last 10 years. And the energy industry has been screaming this for 8 months.
Back when Mitt Romney tried up unseat Barack the Builder, people played coal companies and banked coin. Back in 2000, before Bush Jr. won, people, played military stocks and won. This election cycle is easy to play: get long renewables, electric cars — more specifically solar and alt energy.
These stocks continue to rip higher on a daily basis because Biden intends to spend money there.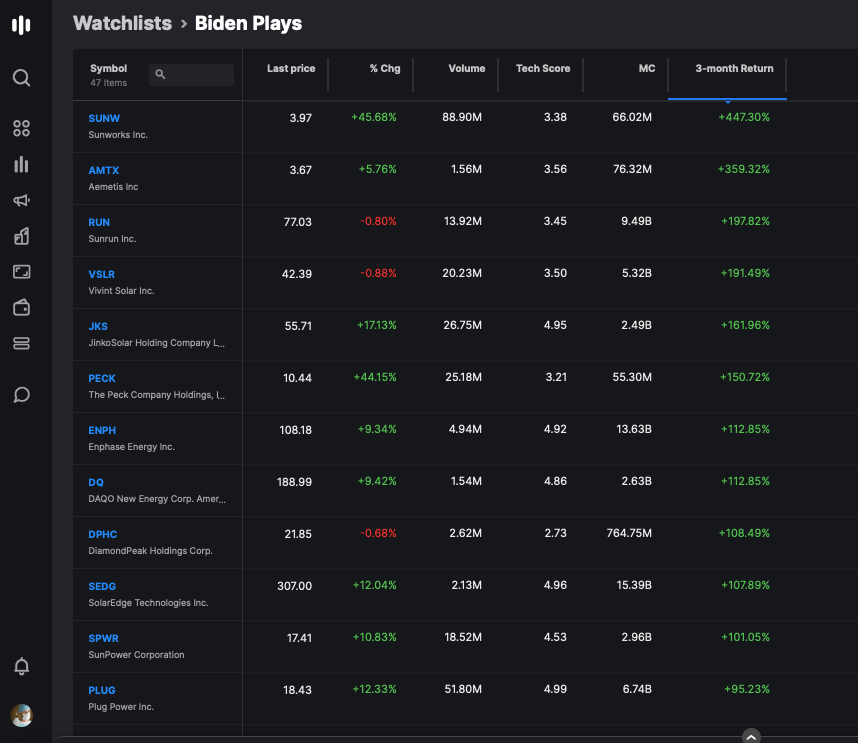 With that said, don't forget one of the most important sayings in the market: buy the rumor, sell the news ‼️‼️
---
🏋⛹️‍♀️
Digital Fitness
🤾‍♀️🥇
One Of The Hottest Spaces On Earth - Digital Fitness.
Strava, (social network for athletes) is looking to raise $150-$400 million. The deal would value their existing technology and 70 million-plus user base at over $1 billion — tripling their valuation from $365 million just three years ago.
OVERVIEW:
+20M members, up 40% since January

3.4M downloads in May, up 179% from January

$6.4M revenue in May, up 166% from January
Strava is built on a free interface, allowing users to track their physical activity (cycling & running) while interacting and competing with friends.
Strava introduced a new $5/monthly premium subscription model — they plan to double down and supercharge their growth by increasing their marketing, advertisement, and platform budget.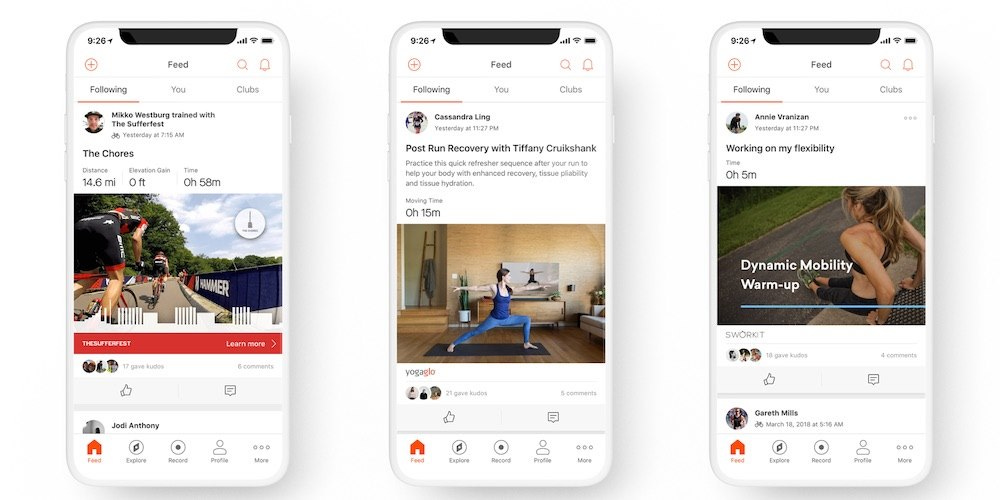 THE MOST INTERESTING PART?
Don't expect the trend to reverse when consumers return to work.
It's become obvious that hardware, social, and technology, has flipped the world of fitness forever. Going to the gym and taking part in community niche fitness facilities have been taken to the cloud.
We're seeing a combination of institutional investors not wanting to miss the next opportunity (think Peloton), and archaic fitness companies urgently attempting to pivot their business model before it's too late.
Check out how much money has been pumped into digital fitness in just the last couple of months. 
L Catterton, a private equity company based in Greenwich, Connecticut has continued to build out an impressive portfolio within the space.
INVESTMENTS INCLUDE:
Peloton

Tonal

Hydrow

ICON (iFit & NordicTrack)
OTHER TRENDS
The pandemic has also allowed traditional sports retailers like Nike and Under Armour to step back, look under the hood, and make necessary changes to non-efficient parts of their business.
Nike has spent the last few months laser-focused on digital sales — which have now accelerated past their 2023 projections.

Under Armour, in addition to scrapping plans on an NYC flagship store, used the time to claw back previously committed capital through sponsorship deals with schools like Cal and UCLA — which they believe can provide a higher ROI through digital channels.
History has continuously shown us that the most successful companies in the world spot trends, move quickly, build a moat, and accelerate their growth.
---
🌊 Most Interesting thing and the Hottest Link From the Week 🌊
Nathan Beach and Ian Hogarth: The State of AI Report 2020.

The 3rd annual state of AI report compiles key developments in the field of AI in the last 12 months, focusing on research, industry, talent, and politics, along with predictions for the next 12 months. This year's report puts a spotlight on the arms-race in large natural language models, domain-specific models that can be performant AND data-efficient, and the huge strides being made in AI for biology. For the first time, the report covered ML Operations (or MLOps, i.e. taking models from research to production scale). Nathan and Ian also highlighted the significance of TSMC, which is covered extensively here.

The State of AI reports is must-reads whenever they come out. It is well worth the 20 minutes to skim the headlines of these 170+ slides to get the gist of the state-of-the-art. For those wanting to get deeper, they are good jumping-off points.

I am super happy that MLOps is covered. MLOps is the proverbial base of the iceberg - not sexy, but mission-critical.