Oct 21, 2020 • 44M
#63 - The Disney+ Flywheel is gaining momentum, Wikipedia is bigger than Facebook, and iteration on WFH.
The Reformed Millennials Podcast covers a wide ranging topic arc focusing on Sports and Investing. RM Pod is dedicated to identifying the latest trends in technology, sport and investing. We discuss the ways Millennials can leverage these trends to better invest their time, fandom and money.
In this week's episode, we're talking about the success of Disney+ and how it shouldn't be compared to Netflix, we touch on the importance of understanding insentives in business models as we compare Wikipedia to Twitter and Facebook and we do a Hot or Not comparison of popular WFH narratives.
If you're at all interested in media and the future of Disney, I highly recommend you tune into this episode.
Listen on Apple, Spotify, or Google Podcasts.
If you aren't in the Reformed Millennials Facebook Group join us for daily updates, discussions, and deep dives into the investable trends Millennials should be paying attention to.
👉 For specific investment questions or advice contact Joel @ Gold Investment Management.
---
🚨STREAMING WARS🚨
Disney wants Netflix Valuations

Suspended Dividend for first half of year and stock has gone up and the company has made a restructuring call.

Content and distribution is king

While obviously Disney+ will compete with Netflix for consumer attention, the goals of the two services are very different: for Netflix, streaming is its entire business, the sole driver of revenue and profit. Disney, meanwhile, obviously plans for Disney+ to be profitable — the company projects that the service will achieve profitability in 2024, and that includes transfer payments to Disney's studios — but the larger project is Disney itself.

By controlling distribution of its content and going direct-to-consumer, Disney can deepen its already strong connections with customers in a way that benefits all parts of the business: movies can beget original content on Disney+ which begets new attractions at theme parks which begets merchandising opportunities which begets new movies, all building on each other like a cinematic universe in real life. Indeed, it is a testament to just how lucrative the traditional TV model is that it took so long for Disney to shift to this approach: it is a far better fit for their business in the long run than simply spreading content around to the highest bidder.

Disney ($DIS) Vs. Aggregators (Netflix, Hulu, HBO, Crave)

Disney just announced that its next Pixar file, Soul will be released exclusively on Disney Plus which is setting up to be one of the most idealized pieces of Disney content ever.

I'm not referring to the actual movie but how Disney is poised to make money from Soul:

Disney will earn money from Disney+ subscribers, and keep 100% of the margin.

Disney will create Soulderived merchandise, much of which it will sell through its stores and at its theme parks, and keep 100% of the margin.

Disney will create Soulderived features at those theme parks, most of which it fully owns-and-operates, and keep 100% of the margin.

At every transaction along the way, Disney will build an ever fuller picture of its customers. Disney, as always, will be selling Disney — it is just getting better and better at it as it more fully integrates its entire value chain.

The Disney platform Flywheel is officially spinning - and its stock is cheap.

Disney+ has been a rare bright spot for Disney during the COVID pandemic, as so many other parts of the company, from cruise ships to theme parks to sports are predicated on in-person interactions. That Disney+ existed, though, was not simply good fortune: it has been clear that the world was headed this way for years — the primary function of the coronavirus crisis has been to accelerate trends that already underway — which is why Disney had no choice but to get into streaming.

Pixar's 'Soul' Skips Theaters for Disney Plus

Walt Disney Napkin
---
🐣Airbnb IPO🐥
IPO Fever continues as we wait for the much anticipated Airbnb S-1
Some figures to consider regarding the Airbnb IPO
When Airbnb goes public, it's going to immediately become the number 1 brand in hospitality. When I think of hospitality I think of Marriott, Hilton, or Fairmont. But today, if you asked 100 people on the street, when they think about a vacation they think of Airbnb and that is powerful. Luxury hotels aren't doable for families with a net worth sub 10 million.

Airbnb has global supply, boasting more than 7 million listings worldwide — more than Marriott International, Hilton Worldwide, InterContinental Hotels Group, Wyndham Hotel Group, and Hyatt Hotels, combined

More people want to cook themselves and travel affordably.

Airbnb has no mortgages like a marriot or a hilton. Which doesn't allow them to variable their costs down to make investments in technology.

Airbnb offloads the massive debt obligation of debt to their operators in the same way Uber does. The only negative things they are dealing with are around taxes, and ruining travel cities and neighborhoods.

Benchmark for comparable which I heard from Scott Galloway is visa and Mastercard.

This suggests that Airbnb could easily sport a valuation of 15-25 times next year's revenues: 90-150 billion. The last round of funding was done at 15b mid pandemic.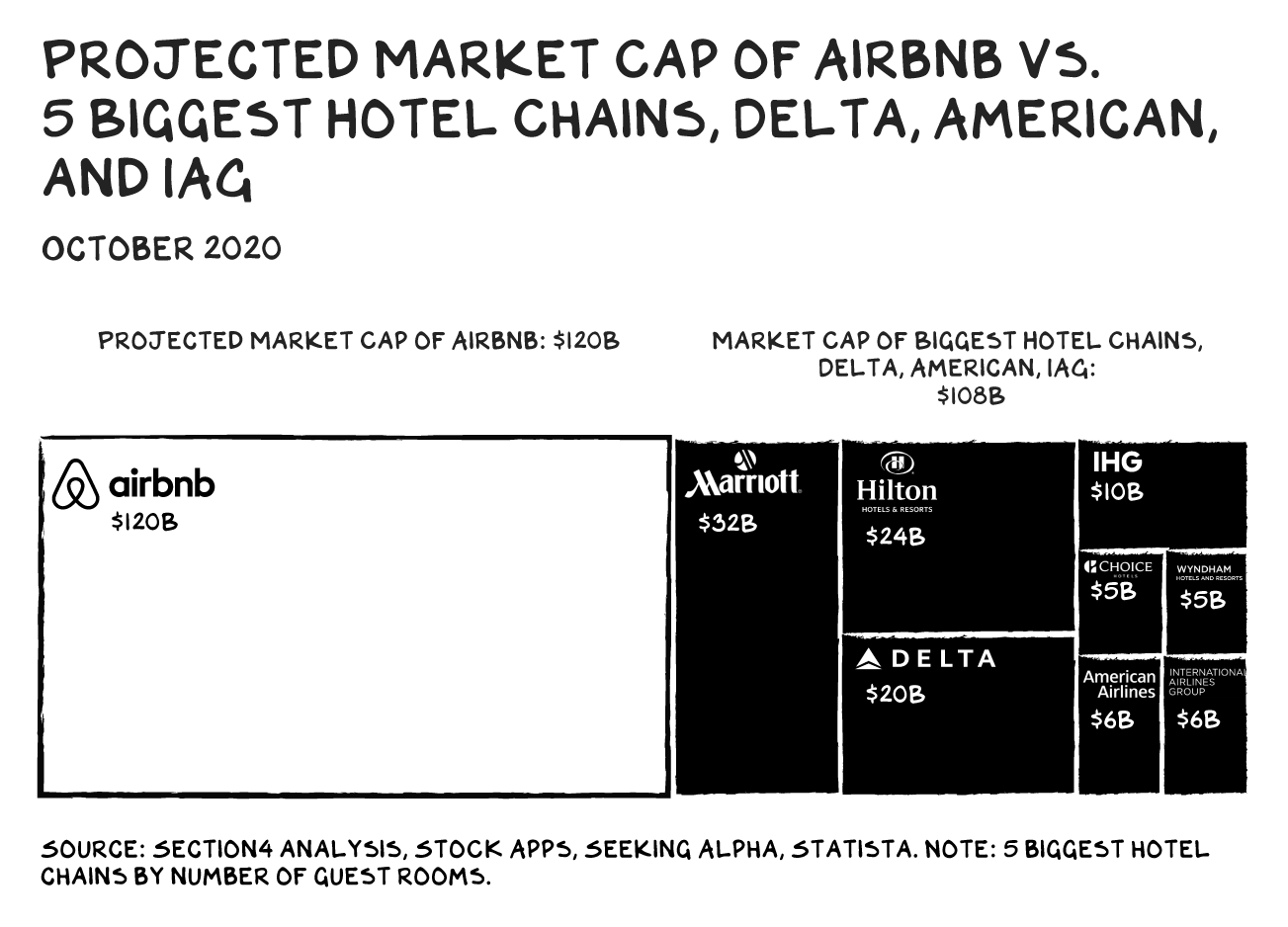 ---
📃WFH Twitter Thread💻🏠🌍
Not Happening:
🚜Rural Living: World-class people will move to smaller cities, have a lower cost of living & higher quality of life
These regions must innovate quickly to attract that wealth. Better schools, faster internet connections are a must
🌎Global Citizens: Individuals with no national attachment become ubiquitous. Challenges of paying people cross border due to compliance and legal issues slowly fade away as the world becomes more borderless
👑Job Title Death: What your job title is will become more irrelevant as remote work becomes more prominent
What you do, what you're capable of, the tools you can wield will enable you to do jobs that break you free from the shackles of a title
🚌Remote Living: Work from anywhere RVs will become a huge business
Associated business parks and services will spring up. This will happen even more rapidly as self-driving tech emerges
Expect a @Tesla product in this space
🏠 Micro Co-working: a home on every street is transformed into a hyper-local co-working space.
It comes with all the amenities needed, like high-quality coffee, and has on-demand fitness equipment like @onepeloton bikes
Maybe:
🌎Global Citizens: Individuals with no national attachment become ubiquitous. Challenges of paying people cross border due to compliance and legal issues slowly fade away as the world becomes more borderless
😴Working Too Much: Companies worry that the workers won't work enough when operating remotely.
The opposite will be true and become a big problem
Remote workers burning out because they work too much will have to be addressed
☠️The death of Coworking: The last recession was the beginning of the end for bespoke vanity office
The next recession will spell the same thing for co-working spaces
The rise of remote will mean a majority of the 255m desk jobs globally are remote by 2029
💰Private Equity: the hottest trend of the next decade for private equity will see them purchase companies, make them remote-first
The cost saving in real-estate at scale will be eye-watering. The productivity gains will be the final nail in the coffin for the office
🏦Third Space: Office and Working from Home will be joined by somewhere close by that a number of people will use
Supermarkets or local bank branches should emerge as a convenient ubiquitous location option – if they are smart
Mortal Lock:
🗺 International Talent: Great for developing countries. International companies will access to talent globally
Access to opportunity will be decentralized
💹Fractional Ownership: remote work will make advancement less important/more difficult
Rather than reward being a better title, fractional ownership could enable workers to be more easily rewarded with ownership of their companies/make the market for equity more liquid
💘Talent Wars: Remote work is the perk that is most sought after by workers globally. This will only increase
Remote-first companies will disrupt every incumbent who doesn't/isn't able to make that transition
❤️Life-Work Balance: The rise of remote will lead to people re-prioritizing what is important to them
Organizing your work around your life will be the first noticeable switch. People realizing they are more than there job will lead to deeper purpose in other areas
👀Distraction Avoidance: The home office will skyrocket in popularity. A space at home to get away a necessity
There will be an explosion of people purchasing standalone units for their backyards for this
🤬Remote Rejection: Certain demographics and generations will reject the transition. Their benefit – that everyone in the office is like them and it's easier for them to progress – will be their reason
Companies that don't transition will be left behind
⚽️Hobbie Renaissance: Remote working will lead to a rise in people participating in hobbies and activities which link them to people in their local community
This will lead to deeper, more meaningful relationships which overcome societal issues of loneliness and issolation
---
🌊 Interesting things and Hot Links From the Week 🌊
Great Links from Last Week