May 11, 2020 • 52M
#40 - Bitcoin Halving, Portnoy Wins Goodell's All-In Challenge, UFC 249, Elon Musk on JRE, and more.
The Reformed Millennials Podcast covers a wide ranging topic arc focusing on Sports and Investing. RM Pod is dedicated to identifying the latest trends in technology, sport and investing. We discuss the ways Millennials can leverage these trends to better invest their time, fandom and money.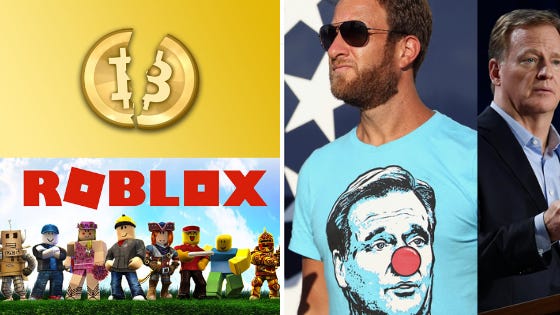 In this episode, we cover a lot of ground from the first professional sports league to restart with UFC 249, to the Bitcoin halving happening tomorrow. Tune in for opinions on other noteworthy events from the previous week including Elon Musk's second appearance on the Joe Rogan podcast, where teens are spending the most time online, and insight on why so many companies are deciding to raise money right now.
If you aren't in the Reformed Millennials Facebook Group join us for daily updates, discussions, and deep dives into what's going on in the world right now.
---
Listen on Apple, Spotify, or Google Podcasts.

p.s. If you're interested in Disney earnings or the streaming video-on-demand space, check out our Thursday episode from last week. Here are the timestamped highlights.
Links Mentioned:



Elon Musk's most recent appearance on Joe Rogan Experience.
Shanghai Disney, which closed since Jan. 25, will be the first major theme park to reopen since the Covid-19 shutdowns.
Details on the Bitcoin halving.